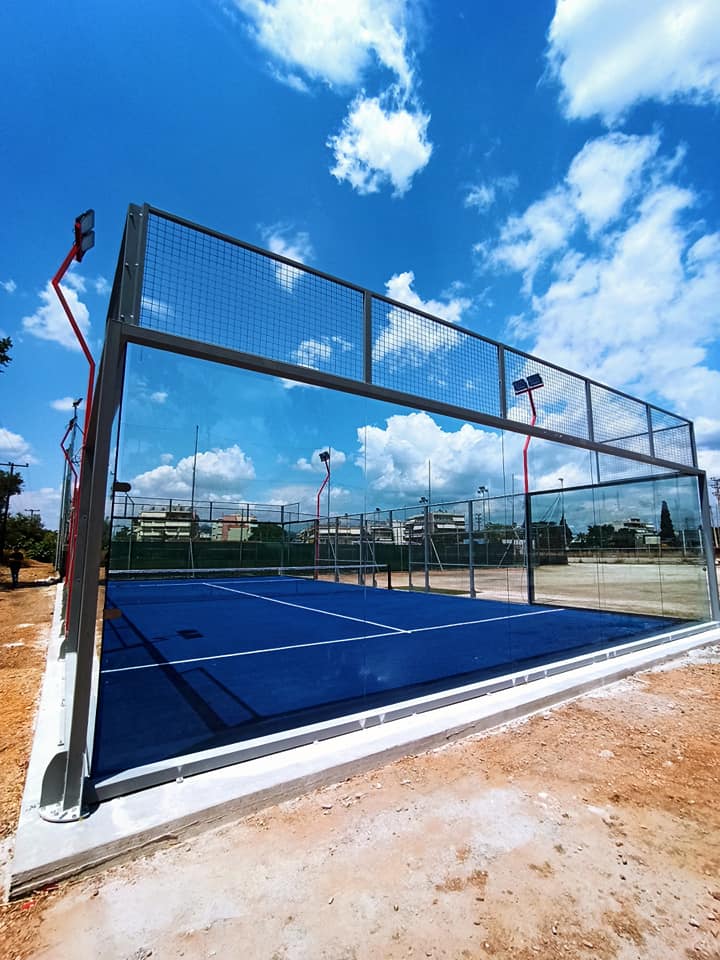 Padel Tennis
Elefsina Soccerland - 5x5, 7x7 & 9x9 Stadiums - Football Academy - Playground - Elefsina Attica

The new habit that will become a cult for young and old, for women and men !!
Take your company and come to live the unique experience of the sport that will give you incredible moments !!

But what is a padel?
It started in Mexico in 1969 and is the fastest growing sport in Europe. It is expected to be the next Olympic sport.
- A sport that combines tennis, squash and racket
- Simple for all ages with play and fun
- Enhances teamwork - sociability
- Perception is more important than physical strength
- Suitable for proper exercise and improvement of physical condition and health
What are Padel's rules?

It is always played with four players, two from each side, like the double of tennis. The rules and the score are exactly the same as in tennis. The difference is the movement of the service which is done from below. The serving player must pop the ball once on the ground and then hit it before it reaches the height of his waist, without exceeding it.

Also the wall, which is part of the game according to the following:
If the ball touches a wall directly, it is considered out and the defender wins the point.
If she first touches the ground once, the defender has the right if he wants to let her lean against the wall (either once or more, depending on the shot, especially in the corners) and then return it to the opponent.
In service, if the served ball touches once in the correct box and before it hits the opponent touches the side iron wall, it is a fault, unless it touches the point where the glass wall starts where the point continues to be played.
Otherwise, rules like tennis apply. However, during the point, if the ball hits the court of the defender and then the iron wall then the point continues normally.
Finally, the defender has the right, after the ball pops first in his own court, to hit it on the back wall and with the appropriate spontaneity to return to the opponent's court, a "contra pared" blow (against the wall).

Finally, the defender in extreme cases, after the ball pops in his field and then goes out of the field (this is mostly in case of smash of the opponent), he can also go out of the field from the side exits and return it at the opponent's court.